"Next to Lincoln, Willis Spaulding was our greatest citizen," then-Mayor Nelson Howarth said upon Spaulding's death in 1965. "… His leadership in the fight for public utilities resulted in Lake Springfield, pure water, low electric rates and acres of recreational land. Few men can leave such a monument to their memory."
 Willis J. Spaulding (1870-1965) served eight consecutive terms as public utilities commissioner from 1911 to 1943, in the process establishing city-owned power and water systems, building Lake Springfield and creating City Water, Light and Power.
Spaulding, the oldest of eight siblings, was operating an orchard with one of his brothers in 1908, when he was first drawn into Springfield politics. Spaulding told the story to interviewer Beulah Gordon for an Illinois State Journal-Register story in 1956.
"In 1908 John Schnepp was elected mayor. At that time the public water supply was being taken from the Sangamon river, which was badly polluted. … There was talk of selling the waterworks. This was opposed by a group, including myself.

"I led a torchlight parade — the last in Springfield — in support of Schnepp for mayor, carrying banners with the inscription, 'Clean Water and Clean Politics.' After the election the new mayor and many friends urged me to take the job of superintendent of the waterworks, which I accepted."
A pilot plant designed by Spaulding's younger brother, chemical engineer Charles H. Spaulding, helped determine how the river water could be cleaned up.
In 1911, Springfield voters, revolting against longstanding corruption, voted overwhelmingly to replace aldermanic government with the commission form, under which elected officials also were full-time administrators of city departments. Four months later, Willis Spaulding — who had been one of the main backers of the commission-government referendum — won the first of his eight terms as utilities commissioner. (The city returned to aldermanic government as the result of a federal voting rights lawsuit in 1987.)

In the 1930s, Spaulding led the successful effort to build Lake Springfield. The first water flowed over Spaulding Dam on May 2, 1935. The next year, Spaulding — a strong proponent of public utility ownership for his entire term in office — finally cut a $7 million deal to buy out the Central Illinois Light Co.'s electric and heating facilities in Springfield.
"As a result of the transaction … the city water, light and power department will be in complete control of the city's light, power and heating business and the question of the supremacy of municipal ownership, which has raged in this community for a score of years, will be ended," the Illinois State Journal reported.
Spaulding's belief in public utility ownership tied in with his progressive viewpoint on politics in general. That also was reflected in his circle of friends and political allies: newspaper editor V.Y. Dallman, poet Vachel Lindsay, Susan Wilcox, George and Maydie Lee (Spaulding's sister), Duncan McDonald of the United Mine Workers and others.
Spaulding, who was finally defeated for re-election in 1943, was honored in May 1949 with an elaborate citywide testimonial dinner. Speakers included U.S. Sen. Paul Douglas and Gov. Adlai Stevenson II. The event was broadcast on WCVS radio, and four city high schools — Springfield, Lanphier, Feitshans and Cathedral — closed and their massed bands played for the testimonial.
"We tried to cultivate the idea that it was an honor to serve the public and that each employee owed the city an honest day's work," Spaulding said in comments delivered at the gathering. (Dallman presented the statement for Spaulding, who was too ill to do so himself.)
"Let us remember that a city or a government is a living, growing thing," Spaulding wrote then. "Each generation has its own problems, calling for leadership, labor and sacrifice, calling for men and women who want to put something into government instead of eternally trying to get something out of government for themselves. Let us struggle bravely up the long hill that never ends … For the future in the distance and the good that we can do."
Spaulding died on Aug. 17, 1965. He is buried in Oak Ridge Cemetery.
More information: Sangamon Valley Collection, Lincoln Library; Chronicling Illinois, Abraham Lincoln Presidential Library; City Water, Light and Power Lakeside Facility study, Fever River Research (2012); City Water, Light and Power 100th anniversary pamphlet (2011).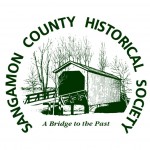 Original content copyright Sangamon County Historical Society. You are free to republish this content as long as credit is given to the Society. Learn how to support the Society.