The First Citizen program was created in 1963 as the Copley First Citizen program by Springfield's Copley-owned newspapers, the Illinois State Journal and Illinois State Register. The name was changed after Copley sold the merged State Journal-Register in 2007.
The award is intended to honor service that contributes to the betterment of the Springfield area. A citizen board selects a winner annually from among nominations submitted by the public. Those honored have been:
1963: Harriet Knudson; developed Lincoln Memorial Garden
1964: Rev. H.M. Hildebrandt; pastor of Third Presbyterian Church for 56 years, ministered to jail inmates and troubled youths
1965: Charles E. Becker; built Franklin Life Insurance, donor to Springfield College in Illinois/Benedictine University
1966: Otto Kerner; governor from 1961 to 1968, oversaw rehabilitation of Old Capitol, Lincoln Home area
1967: Elizabeth Graham; preserved Vachel Lindsay Home
1968: Dr. James Graham; United Way activist
1969: George Hoffmann; led effort to create Sangamon State University/University of Illinois Springfield
1970: Silver Suarez; as chief, expanded and modernized Springfield Police Department
1971: Dan Bannister; led local charitable and economic development efforts
1972: Dr. Edwin Lee; raised awareness of problems on Springfield's east side, led efforts to expand St. John's Hospital, purchase land for SSU/UIS and Lincoln Land Community College
1973: Albert Myers; supporter of youth, charity and business development organizations
1974: Mary Kreider; friend of handicapped, disadvantaged and elderly
1975: Francis Budinger; fundraiser for St. John's Hospital, Griffin High School, SCI/Benedictine, headed convention center board
1976: Jessie Mae Finley; community and church volunteer, founder of Voices of Love, Joy and Peace
1977: Adele Karlson; advocate for people with mental disabilities
1978: Mitch Shadid; supporter, organizer of youth baseball
1979: Peter Mascari; priest, humanitarian and community activist
1980: Leon Stewart; religious, humanitarian and fraternal volunteer
1981: Clascenna Harvey; official city greeter, musician
1982: Sally Schanbacher; advocate for historic preservation and restoration of Old Capitol and Lincoln Home area
1983: Frances Braun; volunteer with church, Senior Citizens Center, Lincoln Library and more
1984: Mary Loken; educator, counselor, social worker
1985: Cornelia Hodges; volunteer with Mary Bryant Home and Rail Charity Classic, president of Zonta International
1986: Gary and Beverly Reynolds; adopted nine disadvantaged children
1987: Carrol Hall; founder of Horace Mann Insurance, community philanthropist
1988: Marjorie Marr; foster parent, founder of Big Brothers/Big Sisters, advocate for young people
1989: William Schnirring; leader with United Way, Chamber of Commerce, Memorial Medical Center board
1990: Dr. Robert Nachtwey; helped found St. John's Hospice, volunteer and fundraiser for many groups
1991: Willard "Bunch" Bunn Jr.; supporter of Springfield Art Association, Urban League, many other organizations
1992: Dr. Emmet Pearson; restored Clayville historic site, supported founding of Southern Illinois University School of Medicine, created medical museum at SIU
1993: Marty Sumner; leader of Helping Hands and Contact Ministries, among many social service, arts and other groups
1994: Gladys "Granny" Hubbard; foster parent for more than 50 years, community activist
1995: Dr. Ann Pearson; pediatrician who took special interest in caring for poor children
1996: Sister Anne Carlino; developed Clinics for Kids, Holy Family Food Pantry, led other social service efforts
1997: Ann Dondanville; volunteer with St. Monica's Maternity Center, St. Joseph's Home
1998: Carolyn Oxtoby; downtown Springfield preservationist
1999: Bernard Quigley; worked on more than 20 Habitat for Humanity homes, volunteer at St. John's Breadline, Senior Services and more
2000: Guerry Suggs; supporter of Illinois State Museum, Urban League, Chamber of Commerce, YMCA and others
2001: Rudy Davenport; helped found Habitat for Humanity, president of NAACP, plaintiff in lawsuit that changed Springfield city government
2002: Gene Humphreville; in retirement, managed St. Martin de Porres Center, civic volunteer for more than two decades
2003: Ethel Gingold; championed civil rights, women's issues, education efforts
2004: Dr. John Holland; worked with Catholic Charities, St. John's Hospice, Kumler Neighborhood Ministries, many more
2005: Shelby Harbison; leadership roles with Springfield School Board, YMCA, Gateway Foundation, American Business Club
2006: Barbara Dickerman; activist with League of Women Voters, YWCA, NAACP and other organizations supporting civil rights and equality
2007: Wes Barr; organizer of Marine Corps League Toys for Tots program and its successors, other community involvement
2008: J. Garth "Butch" Elzea; philanthropist, led effort to create Edwin Watts Southwind Park
2009: Bob Gray; co-founder of Citizens Club of Springfield
2010: Dr. James Dove; founded Prairie Cardiovascular Consultants, led initiatives in heart care
2011: Rabbi Barry Marks; founded Greater Springfield Interfaith Association, much other community involvement
2012: Paul O'Shea; active with Springfield planning, development and sports groups
2013: Wally Henderson; designed Old Capitol renovation, other architectural and historic observance efforts
2014: Dan Cadigan; 50 years of volunteer efforts with youth, education, business and governmental organizations
2015: Julie Cellini; prime mover in creation of the Abraham Lincoln Presidential Museum
2016: James Forstall;  higher education official, leader with NAACP, Frontiers International, Citizens Club, Memorial Medical Center
2017: Lisa Stone; community volunteer and activist with Springfield Jewish Federation, Sojourn House, Habitat for Humanity, among others
2018: John Eck Sr.; for volunteer efforts that included providing financial guidance to many nonprofit organizations
2019: Teresa Haley; state and local NAACP leader
2020: Kathryn Harris; for decades of involvement in a variety of civil rights and historic preservation initiatives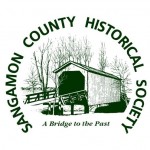 2021: Richard Hart; lawyer, local historian/researcher/author and historic preservationist.  Among many other activities related to Springfield history, Hart was among the group who originally conceived of SangamonLink and contributed to its growth and development.
2022: Evelyn Brandt Thomas: for a range of philanthropic work over decades and her championing of education, particularly women in the field of agriculture.
2023: Patricia Benanti: for volunteer efforts on behalf of the St. Martin de Porres Center.
Original content copyright Sangamon County Historical Society. You are free to republish this content as long as credit is given to the Society. Learn how to support the Society.