The Springfield Iron Co. — better known as "the Rolling Mill" — produced railroad rails and other products at a 45-acre plant near 11th Street and Ridgely Avenue from 1872 until the early 1900s.
More than 1,000 men worked at the mill, which turned out 4,500 tons of rail monthly at its height. The complex included its own coal mine and a company store in addition to iron production facilities.
"Each morning, the mill workers walked down 'mill row' to the mill yard," the Illinois State Register reported in an article published in August 1950. "Each carried his dinner pail and wore rough hobnailed shoes, reinforced with leather flaps as an added protection against the rough steel."
Springfield Iron Co. officers included such well-known Springfield names as Charles H. Ridgely (the company's first president), John W. Bunn (vice president) and George Brinkerhoff. Probably not coincidentally, the mills were technically in the north-end suburb of Ridgely, which was annexed to Springfield in 1907.
The firm stopped producing rails in 1882 and turned to a variety of other iron and steel items, including railroad splice bars and bar iron for car building. It also had machine shops and a blacksmith shop.
Republic Iron and Steel bought the rolling mill in 1899, basically paying only enough — $400,000 — to meet the plant's debts. Republic laid off 700 mill workers in early 1900; the last 75  employees, who were repairing equipment and cleaning up the plant, were let go that May.
Springfield interests, including Charles Ridgely, made several attempts to convince Republic to modernize and reopen the mill. They had some brief success in 1903, after pledging $50,000 to buy Republic stock worth about two-thirds that much.
The company spent about $150,000 to renovate the plant and hired 300 workers, many of them veterans of the Ridgely-led mill, and Republic began reprocessing scrap into usable iron in May 1903.
The recession of 1902-04, however, led to the mill being closed again in the summer of 1903. It never resumed large-scale operations, and most of its equipment was removed in 1906. In fact, some of the foundations were being dynamited on Labor Day 1906, something Springfield's Democratic newspaper, the Illinois State Register, turned into political hay:
A generation ago the Springfield Rolling Mills gave employment to thousands of men. They were run day and night. They were kept in operation more or less extensively from the day of their establishment until they fell into the hands of one of the branches of the Steel Trust, soon after which they were closed down. …

(I)n order to make more dollars at the expense of home consumers, and employ less men to perform the labor that produces its highly protected products, the Steel Trust has abandoned an industry that was built up by our citizens, has torn down the furnaces, raised (sic) the foundations by dynamite and hauled away the machinery that once made music as it rolled the steel and iron billets into articles of commerce.
Note: This entry has been revised and expanded. Our thanks to Robert Schafer for contributing the lead photograph. 
Sources: Sangamon Valley Collection, Lincoln Library; Enos Park Neighborhood Improvement Association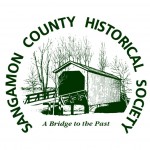 Original content copyright Sangamon County Historical Society. You are free to republish this content as long as credit is given to the Society. Learn how to support the Society.