Only about 10 Springfield Motor Cars — "the made-to-order car for 300 exacting people" — were produced in 1909 and 1910, most from a third-floor assembly plant in downtown Springfield. The undoubted high point of the company's existence was when President William H. Taft rode in a Springfield when he visited the city for Lincoln's birthday in 1910.
The Springfield car originated in Springfield, Mass. However, the company's Illinois representative, Rudolph Haas (1864-1940), owner of R. Haas Electric & Mfg. Co., brought the assembly process to Springfield, Ill.
Haas, an Indiana native who moved to Springfield at a young age, got his start by manufacturing electric fire engine gongs in the attic of his home. (His first customer was the city of New York, which continued to buy Haas gongs for years afterwards.) By the 1900s, R. Haas Electric was prosperous enough that the company was able to erect its own building at 305-07 E. Monroe St.
Springfield Motor Car began its local "branch" production on the second and third floors of what apparently was the Haas Electric building in 1909. Twelve to 15 employees assembled the cars from parts that had been manufactured elsewhere. (Some advertisements for the Springfield Motor Car, including the one reproduced below, give the company's address as 306 E. Monroe St., across from Haas Electric. The reason for the discrepancy is not clear.)
One of Haas' key employees was a man who went on to play a much bigger role in the automotive industry in Springfield, John W. Hobbs. Haas met Hobbs, just out of high school, when Haas' auto broke down in Decatur and Hobbs was able to fix it.
The Springfield Motor Car Co. offered two models, one that held four passengers and the other seven (Taft, who was chauffeured by Hobbs, rode in the seven-passenger version.) The company aimed at an elite audience, as the advertisement below indicates.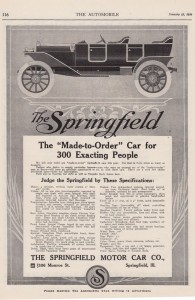 Hobbs drove early Springfields in several races at the Illinois State Fairgrounds in 1910, with some success.
Although beginning output was slim, Haas and the firm's other organizers had big ambitions. They reportedly bought enough parts to produce 500 cars, and in October 1909, the company announced plans to build a new plant at 10th Street and Stanford Avenue and hire up to 150 workers.
The factory, however, was an overreach. "(I)t became evident some time ago that reorganization with greater capital would be necessary to save the property and conserve the interests of the stockholders," according to the June 4, 1910, edition of Automobile Topics.
The Rayfield Motor Car Co. — the chief engineer was George Rayfield, and brothers John, William and Frederick also were part of the company — took over the 10th and Stanford plant in May 2010. Few Rayfields were built in Springfield either, however — no more than a dozen, and maybe fewer.
The eastern Illinois community of Chrisman lured the struggling Rayfield away from Springfield in 1912, and the company went into final bankruptcy in 1915.
Some of Springfield/Rayfield's employees had more success. Hobbs returned to Springfield in 1938 to found the John W. Hobbs Co., which produced the first automotive clock and other accessories. Rayfield investor and sales manager E.E. Staley went on to head Baker Manufacturing Co. of Springfield, which prospered as a supplier to the local Allis-Chalmers bulldozer plant.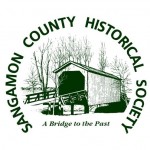 More information:  Sangamon Valley Collection, Lincoln Library.
Original content copyright Sangamon County Historical Society. You are free to republish this content as long as credit is given to the Society.