The Brinkerhoff Home, which in 2020 sat buttoned-up and unused on the former campus of Benedictine University Springfield, was designed in the 1860s by Elijah E. Myers, who would go on to be one of 19th-century America's best known, and least reputable, architects.
The three-story, red brick mansion at 1500 N. Fifth St. was built for George Madoc Brinkerhoff (1839-1928), a teacher, politician, financier and horticulturist. Brinkerhoff, educated as a lawyer, came to Springfield in 1859 to teach at the old Illinois State University. Within a few years, however, he developed multiple careers as a capitalist, government bureaucrat and Republican politician.
Brinkerhoff  co-founded the Springfield City Railway street car system and the Springfield Iron Co., brokered loans, worked as chief clerk of the state insurance department, and  served as city comptroller; in that role, he turned the first shovelful of dirt for the construction of Reservoir Park in the late 1860s.
Brinkerhoff was a friend and political ally of Abraham Lincoln, even though the friendship was a relatively brief one (Lincoln left Springfield on Feb. 11, 1861, less than two years after Brinkerhoff arrived in the city). Brinkerhoff was with Lincoln the day he was nominated for president, and the day Lincoln began his campaign with a speech at the old county fairgrounds, Brinkerhoff was assigned to deliver him to the meeting.
After the assassination, Brinkerhoff played a major role in organizing the president's funeral ceremonies in Springfield. He later was a director of the National Lincoln Monument Association, which oversaw Lincoln's Tomb for its first 25 years.
Brinkerhoff was a delegate to several GOP national conventions and belonged to a variety of civic and fraternal organizations. When he died, he was the city's oldest Mason, both in age and years of membership.
After a health crisis in 1886, Brinkerhoff retired from most of his public duties to become a nurseryman, growing flowers in a greenhouse complex on the mansion's grounds. His blooms regularly won Illinois State Fair ribbons.
"The Castle," as the Brinkerhoff Home was known, was completed in 1869 at a cost somewhere between $17,000 and $35,000. It boasted 15 rooms and 4,100 square feet (neither measurement counted the basement or attic).
"It had the latest in steam heat, plumbing and fixtures," wrote State Journal-Register reporter Margaret Boswell in 1987. "There was a fireplace in every room. It was a showcase for a successful 19th century businessman."
Elsewhere on the spacious grounds were a smokehouse, stables, dairy, vineyards and the greenhouses.
Keys Avenue extended in front of the home between Fifth and Sixth streets when The Castle was constructed. The home's original address was 515 E. Keys Ave., and the building's main entrance faces the south, or Keys Avenue, side of the building. Keys was closed as a safety measure after 1928, when George Brinkerhoff died and the home was sold to the Ursuline order of Catholic nuns, who founded Springfield Junior College the following year.
Alice Rosa Lacey, an Ursuline nun who wrote a book about the Brinkerhoff Home and its 1970s-80s restoration, The Story of Brinkerhoff Home, preferred the west-side view anyway:
(A)ctually the more attractive view is from Fifth Street, from which one sees the large porch wrapping around the corner of the house, and can comprehend the full sweep of the building.

With its extended single-story porch, low-pitched roof and widely overhanging eaves, molded cornices, tall narrow windows and square tower, it stand as a classic example of the popular Italianate townhouse that dominated urban housing in the Victorian decades.
The home was a focus for Springfield's social set until the death of Brinkerhoff's wife, Isabella Hawley Brinkerhoff (1843-94).
After Springfield Junior College (later Springfield College in Illinois and then Benedictine Springfield) took over the property, "the 'castle' received hard use," Lacey wrote.
At various times, the building housed classes, the school's administration, an art studio, and a preschool. The college's Little Theater and the Springfield Theater Guild held rehearsals, built sets and stored costumes in the basement "Troupers Pit."
Both male and female students, along with unmarried male faculty members, were sometimes housed in the Brinkerhoff Home. Lacey quoted an older nun, Sister Josephine Falter, one of the home's housekeepers:
Life was pretty exciting at times because all the unmarried men stayed there. Each had a private room. They had parties and soirees downtown. They had a good time.

They ate at the College in the priests' dining room – men's dining room, really. All the men ate there. The ladies did not like it. … They thought the men got so much more food than they did, and the ladies had to go through the cafeteria line.
In 1960, lightning damaged the house's iconic tower, and by the 1970s, The Castle was largely abandoned and appeared headed for demolition. That's when a coalition of college neighbors, alumni and interested citizens began an uphill battle to revive the mansion.
The main organizer was a dynamic north-ender, Doris Bucari (1913-94). Bucari told Lacey about first time she toured the house in the 1970s.
"It was the awfulest place because it was full wall-to-wall with junk, and I do mean junk," Bucari said. However, she believed it still could, and should, be saved. "A lot of old buildings were being torn down in Springfield, wouldn't that be awful if it would happen to that house! Would the college board allow us to do it?"
An inspection by engineer Walter Hanson determined the mansion was still structurally sound, although the leaky roof had started to put that status in jeopardy. Bucari started fundraising, at first on small scale – her initial effort, an auction sponsored by Questors, an antiques club she belonged to, raised a little over $100. But Bucari rounded up allies, including Hanson, attorney George Hoffmann, Lincoln Library history and architecture expert Ed Russo and others, and her efforts started to bear fruit.
The group formed a nonprofit independent of the college, the Brinkerhoff Home Foundation, and successfully applied for the house to be named to the National Register of Historic Places. That made the home eligible for a $20,000 state grant that, matched by the foundation, paid for roof repairs. Inside, battalions of volunteers painted, repaired and restored many of the home's old glories.
By 1987, Boswell could report that:
Anyone seeing the Brinkerhoff Home on the campus of Springfield College in Illinois today probably would not be aware that, about 11 years ago, the building was in such disrepair there was talk of tearing it down.

No more. A concerted volunteer effort and fund-raising … have the home back on its way to being one of the premier landmarks of the city.
Following several years in partnership with Springfield College in Illinois, Benedictine University took over the Springfield school in 2009 and greatly expanded its curriculum and student body. The venture failed, however. Benedictine rolled back its local offerings in 2014 and then abruptly shut down the school, putting the 90-year-old campus up for sale in 2018.
The property remained unsold and unused as of early 2020, leaving the fate of the Brinkerhoff Home – as well as another historic mansion owned by the school, the King's Daughters Home – in limbo again.
Elijah E. Myers
The man who designed the Brinkerhoff Home, Elijah E. Myers (1830-1909), was a talented architect who over a 50-year career designed capitol buildings in three states. But his architectural abilities were more than matched by his gifts for graft, ambition and overreach.
Myers apparently began his working life as a carpenter in Philadelphia, although little is known of his activities before he arrived in Springfield in the early 1860s.
Myers began styling himself an architect shortly thereafter. (Architects required no particular education or training at the time, although Myers may have studied with Philadelphia's well-known Samuel Sloan, according to Wikipedia.)
Myers' name first appears in local newspapers in 1861, when the Illinois State Journal listed him among people with unclaimed letters at the post office. Ads for E.E. Myers, "practical architect," were appearing in the Journal by 1863,
Locally, in addition to the Brinkerhoff Home, Myers designed another red-brick mansion along what now is Interstate 55 near Farmersville. Built for livestock dealer and surveyor Lewis Thomas in 1863, that building was restored in the 1990s by the late Punkin McClelland, becoming known as "Punkie's Palace." It was heavily damaged by fire in 2003.
In central Illinois, however, Myers' most famous design was that of Macoupin County's "million-dollar courthouse" in Carlinville. By the time construction was stopped – "not completed," a Macoupin County website emphasizes – in 1870, the original budget of $50,000 had shot up to $1.3 million.
Myers himself was paid $60,000 for work on the building – and that doesn't count his likely share of under-the-table kickbacks, which were massive.
Paul Goeldner wrote a detailed account of Myers' career in 1988 for the Southwestern Historical Quarterly (readable via JStor, registration required). Goeldner said of the Macoupin courthouse:
An impressive structure by today's standards, it demonstrated Myers's mastery of his profession. Its records also show that he participated in the graft that drove its cost to $1,342,000, a phenomenal figure for its day.
When built, the courthouse was the second-largest in the U.S., behind only New York City's. It took Macoupin taxpayers 40 years to pay the bills – but the million-dollar courthouse was successful as a building, and it was still a working courthouse in 2020.
In 1872, Myers left Springfield for Detroit to oversee construction of the Michigan capitol, which was completed on time and within budget. Myers won competitions to design the capitols of Texas in 1880 and Colorado in 1885. However, he ended up being fired from both those projects – for inattention in Texas and because of money disputes in Colorado – before they were completed.
In a letter explaining his dismissal, the Texas agency that oversaw construction of that statehouse shed light on some of Myers' financial shenanigans. According to Goeldner, the company hired to supply glass for the building quoted a price to Myers of $62,000, "while Mr. Myers," the letter said, "offers to furnish this glass … for $88,000."
Myers' last major project, according to Goeldner, was the city hall in Richmond, Va. A familiar pattern developed.
"An investigation while the building was under construction considered evidence that Myers had paid a $1,500 bribe to get his plan adopted," Goeldner wrote. "When the structure was finally completed in 1894, the $300,000 limit had been stretched to $1.3 million."
Myers clearly took advantage of loose financial controls on many of his projects. However, Goeldner  theorizes that some of the massive cost overruns on Myers' designs weren't due to dishonesty. Myers, hoping to win contracts, sincerely convinced himself the work could be done at far less expense than was reasonable.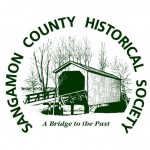 Goeldner concluded with a summary of Myers' career, good and bad:
Several important buildings of Myers's design have survived to prove his ability as an architect. They include state capitols in Michigan, Texas and Colorado; courthouses in Macomb, Carlinville and Galesburg, Illinois; the Richmond City Hall; and the Central Methodist Episcopal Church in Lansing (Mich.) Their architect was a talented, dishonest, hard-working, spiteful, clever, unbalanced, self-assured, self-destructive hypochondriac whose story must be pieced together from fragments. He will always be somewhat mysterious, evasive, and much more interesting than many of his more conventional contemporaries.
Original content copyright Sangamon County Historical Society. You are free to republish this content as long as credit is given to the Society.