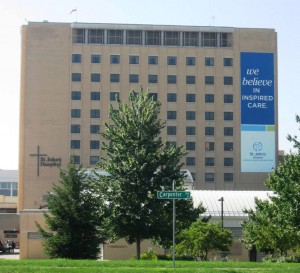 The history of St. John's Hospital begins in 1875, when a half-dozen nuns, members of the Hospital Sisters of St. Francis, were assigned to Springfield by Roman Catholic Bishop Peter Baltes of Alton. The nuns, who originally hailed from Muenster, Germany, knew no English, so they boarded with Springfield's community of Ursuline nuns while they learned their new language.
The Franciscans provided much of their early medical care in patients' homes — Sister Frances Dreivogt, for instance, cared for Mary Lincoln prior to her death at the home of Mrs. Lincoln's sister on South Second Street in 1882.
However, the nuns also set up a hospital in 1876 in the former home of Jacob Loose at Seventh Street and Lawrence Avenue.  That building was quickly outgrown, so the nuns moved in 1879 to Eighth and Mason streets. The first building there contained 16 private rooms, four wards and a chapel, dining room, laundry, kitchen and convent, all constructed for $$20,000. The site remains the heart of the St. John's complex.
"The meagre records of those early years tell that John O'Neal was the first man admitted, and a Mrs. Braun, the first woman," according to an uncredited, undated newspaper article apparently published in the mid-20th century. Patients were not billed by the nuns. Instead, the nuns, who still were not fluent in English, would hand out preprinted cards: "We cannot take payment for our work," the cards said, "but if you want to give something for the hospital, we will thank you."
"When the supplies ran low, the sisters set out with their baskets and a wagon or cart. … Then from one house to another they went begging for the needs of their patients," the article reported.
Hospital rates in 1892 were $4 weekly for a bed in a ward or $6 for a private room.
St. John's expanded steadily. The school of nursing began to accept lay students in 1912 (previously it had taught only nuns).  A maternity hospital opened in 1915, St. John's Tuberculosis Sanitarium was established near Riverton in 1919, and a Crippled Children's Hospital and School was created in 1928. A major expansion of the main hospital in 1938 brought its capacity to 750 beds.
The next big modernization took place in 1974, when the hospital's main entrance was moved from the south side of the complex to the north. The Pavilion was constructed in 1988, the Carol Jo Vecchie Women and Children's Center in 1997, and the Prairie Heart Institute in 1998.
Another major construction project — a $41 million patient tower and a $121 million surgery center — was under way as of 2013. The work was scheduled for completion in 2014.
Meanwhile, however, the Franciscan nuns have gradually bowed out of patient care and hospital governance. As of 2000, only three nuns still worked at St. John's, down from as many as 200 in the past. St. John's is owned by the Hospital Sisters Health System, which in 2013 had 17 affiliate institutions and organizations, including 13 hospitals, counting St. John's, in Illinois and Wisconsin.
More information: Sangamon Valley Collection, Lincoln Library; Franciscan Motherhouse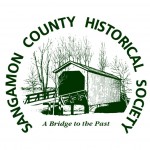 Original content copyright Sangamon County Historical Society. You are free to republish this content as long as credit is given to the Society.