Thomas Strawbridge (1798-1880) was a saddler and harness maker. He lived with his sister, Mary Anderson, on the northwest corner of Fifth and Jefferson streets in 1828, according to the reconstructed map of 1828 Springfield (the site is listed as No. 28 on the map).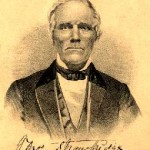 Strawbridge later moved southeast of town, near what is now the campus of the University of Illinois Springfield.
His home there, now known as the Strawbridge-Shepherd House, was  restored in 2013 in a cooperative effort between UIS and the Elijah Iles House Foundation. Tenants now include the Illinois State Historical Society.
More information: UIS has more on Strawbridge, including drawings of the Strawbridge homestead from the Illustrated Atlas Map of Sangamon County (1874).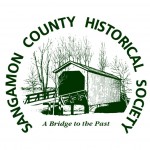 Original content copyright Sangamon County Historical Society. You are free to republish this content as long as credit is given to the Society. Learn how to support the Society.