Springfield banker Nicholas Ridgely (1800-88) turned his love of plants and gardens into a business in 1849 when he started the Cottage Garden and Nursery in the area roughly bounded by 13th, 15th, Washington and Reynolds streets.
Ridgely, who owned the land, reached a business arrangement with the felicitously named William Greenleaf to establish the nursery. Greenleaf (1801?-51), a former minister from Maine who turned horticulturist after going deaf, previously operated nurseries in Auburn and Chatham.
A home, described as a Gothic cottage, was built on the site. The style of the residence was based on the designs of Andrew Jackson Downing, a landscape designer and horticulturalist, and Ridgely and Greenleaf may have laid out the design of the entire nursery based on one of Downing's landscape plans.
They had a large greenhouse built, and the site was surrounded with an Osage Orange hedge.
The nursery quickly became known for its fruit trees, vegetables, shrubs and flowers.
Greenleaf died in a cholera epidemic in July 1851, and another experienced nurseryman, Michael Doyle, took over day-to-day operation of the Cottage Garden.
Former Illinois Gov. John Reynolds visited the Cottage Garden in 1854. In a book he wrote about a trip he made from Illinois to New York, Reynolds described the nursery "as a tasty, elegant and also a useful institution." Ridgely spent about $15,000 on the site, according to Reynolds.
"An extensive 'hot house,' is erected here, that contains a part almost of all the flowers, plants, roses and sweet scented vegetables of the globe," Reynolds wrote.
In 1856 Ridgely had the garden site surveyed as a subdivision and offered lot, including the Gothic cottage, for sale. The subdivision, known as the Cottage Garden Addition, was the first in Springfield to not bear the name of its developer.
Doyle moved to the west side of Springfield and started a nursery there. In 1861, he moved the operation again to the farm of former Gov. Joel Matteson, which was at the southwest corner of what today are MacArthur Boulevard and Edwards Street.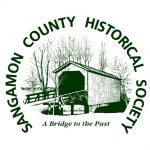 Doyle (1830-86), who later won terms as city assessor and street commissioner, also was a leader of Springfield's Irish community and a friend of Abraham Lincoln. According to his obituary, Doyle "has often told the writer that when the news of Lincoln's nomination for the presidency came, they were engaged in a game of hand ball at an alley on North Sixth street near Jefferson, and that Lincoln did not quit the game till it was finished."
Matteson's farm also included a Gothic-style house. This may have inspired Doyle to name his nursery the new Cottage Garden.
Contributor: Curtis Mann
Original content copyright Sangamon County Historical Society. You are free to republish this content as long as credit is given to the Society.