For nearly a century after Abraham and Mary Lincoln left it, other people lived in and managed their former home at Eighth and Jackson streets. Among the eclectic group were a railroad executive, a couple of politicians, a physician, an obscure brick mason, an eccentric collector and three of Mary's relatives.
The first few residents leased the home, intending only to live in it, from the Lincoln family. Later residents opened the home to visitors, both before and after Robert Lincoln gave the home to the state of Illinois in 1887.
Here is the list of residents and custodians through 1953, when state custodians ceased to live in the home.
1861-69
Lucian Tilton and family leased the home from the President and then from Robert Lincoln, who co-owned the home with his mother until her death in 1882. Tilton (1812-77), president of the reorganized Great Western Railroad, paid rent of $350 per year. According to the Lincoln Home website:
As the Tiltons bought most of the Lincolns' furniture, the house remained nearly unchanged inside and out for several years.  However, they added to the kitchen.  When Lincoln was assassinated in 1865, the Tiltons accommodated hundreds of mourners visiting the house, taking pictures, or snatching a leaf or a blade of grass from the lawn and trees. Mrs. Tilton had to ask for military protection around the house when people started taking paint off the clapboards and bricks from the retaining wall.
Much of the Lincoln furniture purchased by the Tiltons apparently perished in the Great Chicago Fire of 1871.
1869-77
The home was rented by George Harlow and family. Harlow (1830-1900) was a lawyer and former newspaperman who served two terms (1873-81) as Illinois secretary of state. Like Tilton, his rent was $350 per year.
Harlow wanted to buy the home from Robert Lincoln, according to Lincoln and Lincoln home expert Wayne Temple (see below), but when Robert refused to sell, the Harlows moved elsewhere.
1877-79
Jacob Akard (1837-85), a bricklayer, butcher and sewing machine salesman, leased the home from Robert, although he and his family may have occupied it only briefly. Akard's tenure in the home was forgotten until 1981, when James T. Hickey, the longtime curator of the state Illinois' Lincoln collection, discovered a single reference in the correspondence of Robert Lincoln.
Based on comments by John Carroll Power, local historian and custodian of the Lincoln Tomb from 1874 to 1894, both Hickey and Temple concluded that Akard converted the historic home to a boarding house and generally ignored its upkeep. In conjunction with a photo of the house he distributed in 1878, Power wrote:
Hon. George Harlow, the former Secretary of State for Illinois, occupied it as a residence eight years, from 1869 to 1877. After his removal it was rented to parties who now keep it as a boarding house. Not having received any repairs since Mr. Lincoln became President, the indications of neglect and decay are plainly visible.
(Robert Lincoln objected to part of Power's criticism, writing later he had spent nearly $1,100 on repairs since 1868. Nonetheless, he agreed that the house was "getting old and decayed in all parts.")
1879-83
Dr. Gustav Wendlandt (1843-1909), a German-born physician, rented the house through Clinton Conkling, Robert's agent in Springfield. Robert himself was busy in his role (1881-85) as secretary of war to Presidents James Garfield and Chester A. Arthur.
Wendlandt apparently allowed some public access to the house. The Illinois State Register in March 1883 reported one story Wendlandt told about the results.
Dr. Wendlandt lives in the old Lincoln mansion. He tells a good one on relic hunters. He put an old chair in the attic and people looking over the house and copying it supposed it to have belonged to Lincoln, and insisted on taking a piece of it, until it is nearly all gone. It is all the same. Why not?
1883-93
The next tenant, Osborn Oldroyd (1842-1930) was a collector of Lincolniana, a huckster and, allegedly, a thief. But, against the odds, his longstanding obsession with Lincoln ended up preserving some artifacts that otherwise might have vanished.
Oldroyd – his full name was Osborn Hamline Ingham Oldroyd, the initials spelling out the name "Ohio," his birth state – began his collection when Lincoln ran for president in 1860. He reportedly was inspired by a campaign biography.
Oldroyd moved to Springfield in the 1870s, following the family of his wife, Lida Stoneberger Oldroyd. He began a woodworking business that went bankrupt and worked as a bookkeeper and confectioner. But he remained obsessed by Abraham Lincoln.
Sometime around 1880, Oldroyd got the idea to build a "memorial hall" to showcase his growing Lincoln collection. To finance it, he compiled a book, The Lincoln Memorial Album – Immortelles (1883), a collection whose centerpiece was reflections on Lincoln from more than 200 eminent people, interspersed with snippets of Lincoln's own words. The essay writers, all of whom Oldroyd had contacted to solicit their thoughts, ranged from U.S. Grant to Frederick Douglass to P.T. Barnum.
The Album was successful, though not successful enough to build Oldroyd's hall. (Oldroyd eventually wrote a half-dozen books on Lincoln and the Civil War.)
However, in 1883 he got a better deal anyway: He was able to rent the Lincoln Home, which was still owned by Robert Lincoln, although Oldroyd almost immediately began lobbying for the state of Illinois to purchase the house.
In the meantime, Oldroyd put his collection, an estimated 2,000 pieces, on display in the home. Some of the exhibits were historically important, although President Lincoln's relationship to many others was at best far-fetched.
In 1894, when Oldroyd was looking for a new home for the collection, the Chicago Tribune described some of its contents: sermons preached around the country at Lincoln's death; accounts of the funeral train and a map of its route; pieces of the ropes used to hang the assassination conspirators; an 1815 bill of sale for a Black slave (which Oldroyd placed next to a facsimile of the Emancipation Proclamation); cannonballs, swords, bayonets, canteens and other Civil War accoutrements; copies of Civil War songs; and a feather from the tail of Old Abe, a bald eagle that was the mascot of Wisconsin's Eighth Volunteer Infantry Regiment during the war.
But Oldroyd also displayed such items as a cradle purportedly used when Willie and Tad Lincoln were infants, a wooden settee the Lincolns used on their front porch, and a rail said to have been split by Lincoln (as verified by Lincoln's cousin and close friend Dennis Hanks) that was carried in the President's Springfield funeral procession.
Oldroyd early on stopped paying Robert Lincoln his $25 a month rent, although he charged admission to see the collection and sold photographs and a 75-cent selection of Lincoln Home "relics" – pieces of joist, lath, plaster and brick supposedly removed during renovations, as well as bits of wood from trees in the yard.
Robert Lincoln, hoping to avoid publicity, never pursued Oldroyd for the back rent, and in 1887, he finally agreed to turn the home over to the state. The only conditions were that the state maintain the property and that it "be free of access to the public." Oldroyd had to stop charging admission, but the state promptly hired him as the building's custodian, for a salary of $1,000 a year.
That arrangement lasted until the inauguration of Gov. John Peter Altgeld in 1893. Altgeld abruptly fired Oldroyd as custodian, replacing him with a loyal Democrat.
Oldroyd moved his collection to the Petersen House in Washington, D.C., the building across the street from Ford's Theater where President Lincoln died. Three years later, similar to what happened in Springfield, the federal government bought the Petersen House; Oldroyd displayed his collection (again charging admission) on the first floor and lived upstairs.
"The problem is, the new museum featured pilfered artifacts," Tara McClellan McAndrew wrote in Illinois Times in 2008. "He pretty much cleaned house" when he moved out of the Lincoln Home, Susan Haake, curator of the home, told McAndrew. "He stole property."
Among items that Oldroyd took to Washington without authorization, according to the IT story, were the Lincoln boys' cradle and the cast-iron stove once used by Mary Lincoln. On the other hand, Oldroyd apparently had legitimately purchased a variety of Lincoln Home-related furniture and other items in the process of adding to his collection.
Eventually, about 25 items from Oldroyd's collection were returned to the Lincoln Home. Haake told McAndrew in 2008 that Oldroyd deserves some credit for their preservation.
"For the most part, (the items) are in wonderful shape.

"Oldroyd felt he was doing a public service," she says. "In reality he was, because this stuff wasn't really valued (during his time). The fact that Oldroyd was saving all these Lincoln items probably did save a lot of them from being used until they were worn out."
1893-97
Altgeld appointed Herman Hofferkamp, a Democrat who had recently lost his bid for reelection as Sangamon County coroner, as the Lincoln Home's new custodian. In the process, Altgeld disregarded the wishes of Robert Lincoln, who had recommended Albert S. Edwards, a nephew of Mary Lincoln.
"A more flagrant piece of political partisanship has not been heard of since the Democratic administration was inaugurated," the Illinois State Journal (Springfield's Republican newspaper) said.
Hofferkamp (1841-1922) was paid $1,000 a year, the same as Oldroyd.
At the end of his tenure, Hofferkamp held an auction at the home at which were sold "a lot of genuine relics of the lamented Abraham Lincoln, among them the desk he used in the legislature when it met in Vandalia in 1834-5," according to an Illinois State Register advertisement.
Hofferkamp later became the city prison keeper and operated a hardware store. Despondent over ill health, he shot himself to death in the basement of the hardware store in October 1922.
1897-1924
With the inauguration of Republican John Tanner in 1897, bookkeeper Albert S. Edwards (1839-1915) finally got his opportunity to oversee his aunt's former residence. Through his successors – Edwards' wife, Josephine (1842-1918), and their daughter, Mary Edwards "Mamie" Brown (1866-1958) – the Edwards family remained custodians of the Lincoln Home for 27 years.
During Albert Edwards' tenure, William Howard Taft became the first U.S. president to visit the home in 1911.
Albert Edwards died in the Lincoln Home in 1915, as did Josephine three years later.
"She was one of the best informed about the life and times of President Lincoln, and until she became ill, she personally conducted most of the visitors through the Lincoln home," the Journal reported at Josephine's death.
Mamie Brown resigned as custodian in 1924, saying the flood of Lincoln Home visitors had become too great for her to keep up with following the deaths of her parents and a sister who had also lived in the home.
Once again, however, a custodian's departure denuded the home of much of its Lincolniana, according to the Journal.
One of the most important facts in connection with her (Mamie's) departure from the Lincoln home is that the collection of Lincoln relics will be removed from the home. Practically everything in the homestead is the property of Mrs. Brown, heirlooms from her family, which was directly connected with the Lincolns. Mrs. Brown is the granddaughter of Gov. Ninian W. Edwards, in whose home Lincoln married Mary Todd. Mrs. Edwards and Mrs. Lincoln were sisters. The furniture in the Lincoln homestead practically all belonged to the Ninian W. Edwards home, in which Lincoln courted his wife, where he was married, and in which he lived for a time.

The state of Illinois will take over a few pieces of the furniture, but Mrs. Brown will retain the most treasured collection.
1924-53
More than 300 people applied to replace Mamie Brown, but officials of the Illinois Department of Public Works and Buildings, which by then oversaw the home, chose a Chicagoan with Springfield roots as the new custodian.
Virginia Stuart Brown (1893-1970) was no relation to Mamie Brown, but she was the great-granddaughter of John Stuart, Springfield pioneer and Abraham Lincoln's first law partner. Though born in Springfield, Brown was a commercial artist in Chicago when she was appointed.
One of the major factors in Virginia Brown's selection was that, like the Edwards family, she owned a significant collection of Lincoln-related items for display in the home.
"Miss Brown has a great deal of furniture and relics actually associated with Lincoln's life and time which will give the home the same attractive appearance which it has presented in the past," the Journal reported.
Among these is a steel engraving of Lincoln which was presented to her great grandfather by Lincoln himself, a number of chairs and a fine sofa of the Stuart family furniture which Lincoln occupied on visits to the Stuart home, … a bookcase, a table used by Major Stuart and his wife when they first started housekeeping in 1837 and at which Lincoln often sat, a Bohemian glass decanter of the period, a Dresden China vase, and other interesting relics.
Virginia Brown's retirement in 1953 ended more than 90 years during which Lincoln Home custodians lived in the home itself. The change meant the entire home, not just the first floor, could be opened to tourists.
Her successor (named by the Illinois Department of Conservation, which had assumed oversight of the building) was Kathleen Bradish, a longtime guide at the home. Bradish continued to live with her husband on Fayette Avenue.
The Lincoln Home became a National Historic Site on Aug. 18, 1971.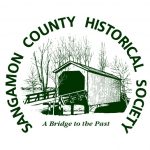 Hat tips: By Square and Compass: Saga of the Lincoln Home, by Wayne Temple (1984), and James T. Hickey's article "Own the house till it ruins me: Robert Todd Lincoln and His Parents' Home in Springfield," Winter 1981 edition of the Journal of the Illinois State Historical Society, along with local newspaper records, were vital sources for this entry.
Original content copyright Sangamon County Historical Society. You are free to republish this content as long as credit is given to the Society.