Sangamon County's last Civil War veteran, Hiram Shumate of Riverton, died, at age 98, on New Year's Day 1948.
At the time of his death, Shumate had been state commander of the dwindling Grand Army of the Republic since 1940 and commander of Springfield's Stephenson Post of the GAR since 1937.  He also served a term (1945-46) as the GAR's national junior vice commander.
Shumate signed up for Union Army service three times, all underage. At age 13, he signed up at Camp Butler as an unofficial "captain's boy," accompanying an unidentified unit for the next two years. "I never saw any fighting, of course, but I saw the wounded and the dead and the dying," he said in an interview shortly before his death.
In May 1864, when he was 15, Shumate told a recruiter he was 18 and enlisted for 100 days with Company E of the 133rd Illinois Infantry, based in Rock Island. The unit never left the Rock Island area, and Shumate returned to Springfield in September. In January 1865, he re-enlisted in Company C of the 13th U.S. Infantry. Shumate was serving in Bedsfield, Tenn. when Abraham Lincoln was assassinated, according to his obituary.
Shumate often recalled the mock funeral ceremony held at camp in which 20,000 soldiers participated. The sham funeral with an empty casket was held "down in the valley," he said, "while we stood at attention on a hillside and almost fell to our knees with every volley the cannon fired."
After the war, Shumate was deployed to Montana, where he served as a trooper in Indian campaigns; he was discharged from the Army in 1867. Back home, he worked as a coal miner, as janitor of the grade school and justice of the peace in Riverton.
Springfield's GAR units once had more than 1,000 members, but Shumate's last Sangamon County compatriot, 101-year-old Caleb R. Davis, died in 1945. Shumate himself was the only Civil War veteran to attend his final state GAR encampment in Rockford in June 1947, but he had to travel there by ambulance.
The doughty veteran took his GAR responsibilities seriously, however. In November 1938, when Shumate was 90, his ride from Riverton to a Stephenson Post meeting at the Sangamon County courthouse (now the Old Capitol State Historic Site) fell through. Illinois State Journal editor and columnist J. Emil Smith wrote the story.
Commander Shumate had on his veteran's uniform and was all set to go when the news came that something had happened to the car and it wouldn't run. … He was determined, however, that a disabled automobile shouldn't block him.

"I'll hitch hike a ride – and if I can't do that I'll walk," he announced as he picked up his cane and started out afoot.

Commander Shumate walked across the Sangamon river bridge and was well along the levee on the other side before a car came by. He wiggled his thumb and the driver stopped. The Civil War veteran said he was en route to Springfield and would like a ride. The autoist was glad to accommodate him.
At the courthouse, Shumate encountered Ken Guyton, who was gathering county historical data for the state. Guyton turned out to be the grandson of a Civil War veteran, and Shumate told Guyton about hitch-hiking to the meeting. Guyton helped Shumate arrange the Bible, flags and cavalry sabers that were part of the GAR's ceremonies.
While the commander and two of his comrades were in session, Guyton sent out a call to his (American) Legion friends for an automobile to take Commander Shumate back to his home in Riverton when he was ready to retrun.

Twenty cars responded to Guyton's call. When Commander Shumate saw all the cars he laughingly remarked: "You have tendered more cars than I'll need for my funeral."
Shumate died at home. His last words were, "The commander is going home soon," his third wife, Emma, told the Journal.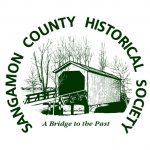 Shumate is buried at Camp Butler National Cemetery near Riverton. The Illinois Women's Relief Corps, a GAR auxiliary, installed a plaque honoring him at the old courthouse in 1948. After the building was dismantled and rebuilt in the 1960s, Shumate's plaque, along with 16 others (several also GAR-related),  was moved to the kiosk on the South Old Capitol Plaza.
Original content copyright Sangamon County Historical Society. You are free to republish this content as long as credit is given to the Society.