The Illinois State Fairgrounds Coliseum was a huge hit when it first opened to fairgoers in 1901. But not huge enough, because the building had to be substantially expanded only two years later.
The Coliseum, declared unsafe for use in late 2016, was designed in 1901 by W.H. Reeves of the then-prominent Peoria architectural firm of Reeves and Baillie. The main purpose was to accommodate horse shows and livestock competitions. Plans originally called for a 200-by-225-foot building, but finances forced the size to be reduced to 125 feet by 175 feet. It wasn't large enough.
"Although the state fair is drawing toward its close, the coliseum building is still a place where crowds congregate daily," the Illinois State Register reported on Oct. 4, 1901 (fairs were held in the fall then). "During yesterday afternoon it was almost impossible to gain an entrance, so dense was the crowd."
As a result, state officials decided in spring 1903 to extend the Coliseum 100 feet east at a cost of $15,000. The Illinois Capital Development Board says that, as of 2016, the building's footprint was about 60,000 square feet, nearly half of which is the show ring.
The Coliseum accommodates almost 2,700 people in fixed bleacher seating. Rental price before its closure was $750 per day for free events and $1,500 per day if tickets were sold.
Besides livestock events, other early uses of the Coliseum included vaudeville performances, often sponsored by George Chatterton, owner of the fabled Chatterton Opera House downtown. Presumably, shows like "Barnes & Sarcho's Great Water Circus," a April 1902 extravaganza that featured a team of diving elk and a singing donkey act, wouldn't have worked in a conventional theater.
The Coliseum got a second major facelift in 1958. The $600,000 project closed the previously open-air arches, created a glass entrance/ticket booth and replaced the building's wooden seats with metal ones.
In 2016, however, an engineering study found corrosion in support beams, roof leaks and missing bolts and screws in support elements, among other problems.
"Based on this observation, it is our opinion that the Coliseum should not be occupied until repairs have been made," the engineers, Hurst-Roche Inc. of Hillsboro, told the Capital Development Board. The cost of repairing the problems was put at $3.7 million.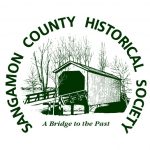 State officials, who already had begun a campaign to attract private donations for other fairgrounds work, said they were "reviewing documents … to determine the best way forward."
Original content copyright Sangamon County Historical Society. You are free to republish this content as long as credit is given to the Society.