Vachel Lindsay Bridge
From Sangamon County History
Structures: Bridges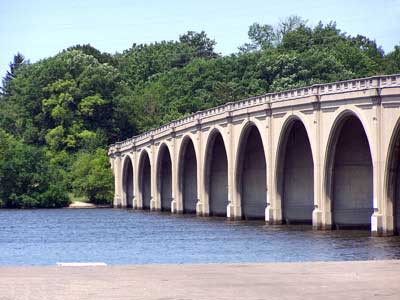 Vachel Lindsay Bridge
Lake Springfield
Springfield, Illinois
The Bridge:
Architect: Burns & McDonnell Engineering Company.
Builder: The City of Springfield.
Earliest Date of Construction: 1933-1934.
Architectural Period/Style:
Extant: Yes.

The Vachel Lindsay Bridge crosses Lake Springfield where East and West Lake Drives meet at Recreation Point.
Significant Historical Events
The bridge was built in 1933 and 1934 and named to honor Springfield poet Vachel Lindsay.
The Architecture
The Burns & McDonnell Engineering Company not only made the original engineering studies but designed the major structures and acted as the consultant throughout the construction period. While it simulates a multiple arch bridge, the structure is really a series of cantilevers with heavy counter-weighted abutments. Its eleven spans total 1,394 feet in length.
Present Use
Public bridge.
Recognition
City of Springfield Landmark
National Register of Historic Places
Sources
Springfield Historic Sites Commission
Cross References
Burns & McDonnell Engineering Company